Darjeeling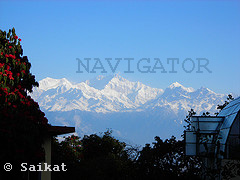 Darjeeling Himalaya
Darjeeling, 'the queen of the hills' is probably the most popular hill station in Eastern Himalaya situated at an altitude of 2250mt. (7500ft.). One can have the view of entire Singalila Range along with Mt.Kanchandzonga, Bhutan Himalaya and a part of Mt.Everest from Darjeeling The eye caching valleys, meandering rivers and of course the lush green tea gardens are the unique features of Darjeeling. If Darjeeling is the crown of Eastern Himalaya
Mt.Kanchandzonga is the jewel on that crown. More over it is the place which has the amalgamation of different communities and cultures i.e. Nepalese, Bhutias and Chinese.
Tiger Hill in Darjeeling offers a magnificent view of Mt.Kanchandzonga & the effect of first sunlight on snow covered mountains. Padmaja Naidu Himalayan Zoological Park is famous for conservation of Red Panda wcich is an endangered spice & now found only in Eastern Himalayan range.
Darjeeling Himalayan Railway (DHR)
Darjeeling Himalayan Railway popularly known as 'Toy Train' is the key attraction to tourists visiting this region. The century old train has been declared as World Heritage by UNESCO in 1999. The construction of DHR was started in 1879 & was fully operative in 1981. The elevation starts from 100 meters at Siliguri to over 2000 meters at Darjeeling. A journey from Siliguri to Darjeeling (approx 7hrs) or a joy ride in Darjeeling will be lifetime experience for any tourist.
Kalimpong
Kalimpong is another important hill station Darjeeling Himalaya. The journey from Darjeeling to Kalimpong will be a pleasant experience because of its beautiful roads and it offers an excellent view of the confluence of the river Tista and Rangeet. Durpindara offers a breathtaking view of the Himalayan Range. Other important sights include monasteries, orchid nurseries, Kalimpong Art and Craft centre, Dr. Graham's Home, a large school set up in 1900 and Delo Hill.
Mirik Lake
Mirik is a small hill station with a beautiful lake. Boating in the Mirik lake is perfect way of relaxation. One can easily add Mirik lake to his onward journey between Siliguri & Darjeeling. The other attractions are the apple orchards, the tea gardens & Pine forest.
Kurseong
It is a small and quiet township just 30 km away from Siliguri on the way to Darjeeling. Kurseong is famous for its view point Eagle's Crag which offers the view of Mt.Kanchandzonga and the southern plains. Dowhill and Moakaibari Tea Eastate are the other attractions of Kurseong.
Sevok
Only a 20 km. drive from Siliguri will take to a picturesque palce called Sevok. Sevok is famous for the Coronation Bridge built over river Tista. The bridge was built in 1930 during the British reign & a example of architectural excellence. Tourists on the way to Sikkim or Kalimpong break their journeys to take a gleam of the scenic beauty of river Tista & its surrounding hills.
Lava & Loleygaon
Lava & Loleygaon these two places are the recently invented hamlets in the lap of the nature. Lava is 32 km. away from Kalimpong and Loleygaon is about 56 km. Loleygaon offers a magnificent view of Mt.Kanchandzonga where as Lava is famous for virgin Neora Valley National Park and Lava Monastery. One can get closer to the nature by walking on the canopy bridge in Loleygaon.
Access- Railway station – New Jalpaiguri (NJP)
Airport- Bagdogra (IXB)
Distance- Darjeeling (87 Km.), Kalimpong (75 km.) from NJP/IXB