Sikkim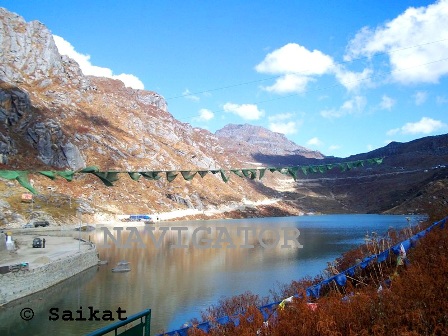 Sikkim is a small tiny state of India in the lap of Himalaya. It is called the land of majestic splendor because of its high rise mountains, meandering streams, lush green tea gardens and forests. It has four districts each is having its uniqueness in term of its offerings to the tourists.
Places of interest in East Sikkim:
Gangtok: It is situated at an altitude of 5500ft. Ganesg Tok, Hanuman Tok, Tashi View point, Enchey Monastery, flower show complex are the main attractions of Gangtok.  Other than that only 24 km. away there is Rumtek Monastery, an important centre for Buddhist studies.
Tsomgo Lake & Natula Pass: Tsomgo Lake is 32 km. away from Gangtok situated at an altitude of 12400 ft. The source of the water is the melting snow of the surrounding mountains. Nathula Pass is another 20 km. drive from Tsomgo Lake, situated at an altitude of 14000 ft. It is a trade route between India and China.
Places of interest in West Sikkim:
Pelling: It is a small mountain village at an altitude of 6000 ft. and offers wonderful view of Mt.Kanchandzonga. Just 2 km away there is Pemayanste Monastery the most important monastery of the Nyingmapa order. The monastery houses a number of religious objects with historical and archeological importence. Other than that there are Kechopalri Lake, Rabadanste Ruins and Sanga Chelling Monastery.
Yuksom: Yuksom is the first capital of Sikkim. It is the nerest motorable rode to Mt.Kanchandzonga. It also offers a magnificent view of other peaks like Mt. Pandim, Kabru and Talung.
Versey: It lies at an altitude of 10,000 ft. and having a motorable access upto Hilley. This place is famous for Rhododendron Sanctuary wide a wide variety of Rhododendrons. A uphill walk upto Soreng or Dentam will be a unique experience.
Just 3kms away from Pelling there is Pamayangtse  Monastery is an important institute of Sikkim of Nyingampa order. Khecheopalri Lake is one of the most sacred lakes both for Buddhists and Hindus.
Places of interest in North Sikkim:
Yumthang: At a height of 11,800 ft. the valley is about 140 kms away from Gangtok. It is one of the most beautiful places of Sikkim. The valley has Shingbha Rhododendron Sanstuary 24 verities of rhododendrons. There is a hot spring and just 24 kms away Katao offers a panoramic view of snow capped peaks.
Chungthang: Chungthang is situated on the confluence of Lachen and Lachung Chu, 95 kms from Gangtok, and it is the starting point of the river Tista. It emerged as a major sub divisional town of North Sikkim. The place has immense potential of biodiversity with a wide variety of orchids. Plants and wild life. Just 23kms and 29 kms away from Chungthang there another two important valleys Lachung and Lachen.
Gurudongmar Lake: It is a fascinating lake of North Sikkim at an altitude of 17,150 ft. and surrounded by snow capped peaks
The other important destinations of North Sikkim are Singhik, Phodong Monartery, Phensong Monastery, Kabi Longstok, Mangan etc.
Places of interest in South Sikkim:
Ravangla: It is an up coming destination of Sikkim. It is the transit point for Menam Hills and Borong. A downward trek will take take you to 'Shar Chok Bepnu' one of the most holiest cave of Sikkim.
Namchi: 78 kms away from Gangtok, Namchi offers a panoramic view of snow capped mountains. The head quarter of South Sikkim is a fast developing tourist destination. Namchi is famous for the flower festival which usually held in the month of February.
Tendong Hills:  The 8,530 ft high destination is a sacred place in South Sikkim surrounded by lush green pristine forests. One can have a two hour trek from Damthang Bazar to Tendong Hill or can adopt the traditional route Damthang to Namchi via Tendong.
Temi Tea Garden: This tea garden produces one of best quality teas in the international market. The garden is spread over a gental slope of hills from Tendong and  offers an extra ordinary view of surrounding villages.
Borong, Singchu-thang, sikip etc are the other important destinations of South Sikkim.